Eye Candy. Gone Wild.
Eye Candy. Gone Wild.
Posted on Friday, August 24th, 2018 at 2:18 pm by Beverly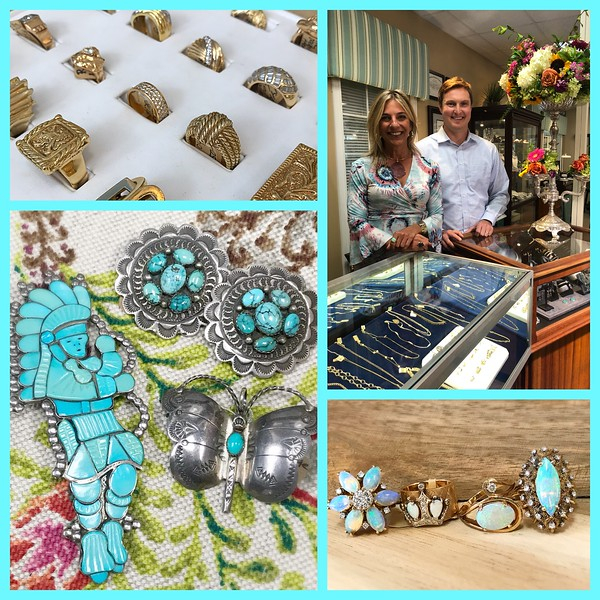 Just like a kid in the candy shop...

That's just how I felt when I was visiting the fabulous Greenbrier Resort, decorated by my idol and girl-crush, the immortal Dorothy Draper.
But EVEN BETTER, when I returned home, Lumina Gem was unpacking all the SPECTACULAR goodies for the 5th annual ESTATE & DESIGNER JEWELRY SALE.

And it's the BEST selection EVER...

This year, Rebekah has brought us an absolutely feast for the senses. But the selection is only here through Saturday ...and all at sale prices.

IT'S EYE CANDY GONE WILD.

So settle in for this week's show...it's eye candy time!

Aqua cheetah print accent chairs, $295 ea. 25.5x21.5dx39"h. Grey wine cabinet retails for $568, our price $345. 44x15x37h. Heavy crystal table lamp just $85, 24"h. Abstract art 49.5x38h, $225. Accessories $14- $72

Lime club chairs, on right $295, on left, has some transit damage, priced at $175, 35wx33dx37h. Vast green abstract $295, 84x42. Rustic 6 door cabinet $695, 70wx15dx42h. Lee Industries hide ottoman $175, 17.5" diameter. Hide pillows $52 ea. Accessories $6 - $72.

Delicious Chinoiserie accent chairs... Don't you love them? $425 each. 30x31dx42h.

High end consignment. Milo Baughman sofa retails at $3,475, we have for $1,095. 86.5x37.5x33h. Matching chair retails for $2,000, here for $495, 34x37.5x33h. Glass top coffee table $175, 48x24x15h. Abstract art $340, 42"square. Blue glass lamp $175, 29"h. Leather pillows $42. Teal pillows $36.

'Solo Swim' giclee $295, 31x44. White 3 drawer chest, two available $325 ea, 40x14dx34h. Faux grass in planter $24. Blue table lamp $62, 27"h.

Fabulous... like-new emerald velvet Crate & Barrel sofa retails for $2,905, our price is $995. 78x36x34"h. Throw $44, Hide pillows $52 ea.

And perhaps some emeralds to go with your sofa? WE CAN DO THAT. Emerald & diamond swirl ring $5,100, SALE $4,080. Emerald with diamond halo $2,150, ON ON SALE DURING THE SHOW $1,720.

Fresh and clean...Pier 1 31"barstools, super buy at $190 for the pair. Blue & green abstract, $225, 49.x38. Blue/green lamps, $85 ea, 30"h. Sorry, console table is sold.

Catch this great look. Wave giclee $295, 33wx40h. Navy 3 drawer chest $325, 40x14dx34h. Accessories $8-$42.

Coastal living done right...blue print accent chairs $425 ea, 34x34x34h. Heron framed artwork, 49,5x38h. Basket hurricane $32.

On trend navy gets a soft look with cream and florals. Ivory tufted chairs on casters, $225 ea, 25x24x36"h. Dreamy companion rose art, $395 ea, 43.5x 32.5. Accessories $10-$28. Ceramic table lamps $145 ea, 28.5h.

Couldn't you just eat it up? Shabby chic dining set just $250, 59x45x30h. Navy designer lamps $180 ea. Fine art giclees $245 ea 35.5x35.5 sq.

Isn't this a DRAMATIC VIGNETTE? Ultra glam chevron cabinet with gold pulls, $595, 60x18dx32h. Restoration Hardware mirror, $895 online, our price $405. 48x60. White column table lamps $140 ea, 34"h. Accessories $12-$24.

But what is more DRAMATIC than an arm full of bangles? They just go on and on in all their golden goodness...$825 to $4,025. SALE $660 - $3,220.

Soft and chic upholstered chairs, $425 ea. 34x34x34"h. Two silver coral tables available, $225 ea, 23"diameter x 23"h. Accessories, $14-$85.

Retro curvy end tables in pristine coastal white just $75 ea. 18x30x21h.

Shoreline artwork $225, 38x49.5h. Ceramic jars $24, $36. Turquoise lamp $175, 29.5"h.

OPPORTUNITY BUY! Slip-covered sofas available in each color shown.$795 ea. 78"w x 38"d x39"h. Dry clean only.

'Overcast' framed art, $225. 38x50h. Dresser with chrome pulls $295, 66x19x36"h. Gold pedestal lamps $125 ea, 35"h. Accessories $10-$28.

More Chinoisserie chairs in cool colors... $425 each. 30x31dx42h.

Holy mackerel what a deal...handsome green skirted loveseat $595, 62x36x33h. Fish giclee $295, 49wx29.5h. Pottery Barn slipper chair $275, 24x28x36"h. Resin textured table lamp just $75, 33"h.

Check out this swanky set...six drawer dresser, $395. 64x17x40"h. Five drawer chest, $395, 38x17x51.25"h. Bedside table, $175, 28x15.75x28"h.

We're wild about these Rattan Chairs by Braxton Culler...just in on consignment, $350 ea, 25x24x38.5"h.

Handsome navy striped linen accent chairs, $395 ea. 33x28x38.5"h.

Large scale black dresser & mirror $495, 69x20x44"h. Bedside tables $265 ea, 34.5x20x34"h. Banana leaf oil painting $203, 29wx37"h. Green artichoke finials $48. Green resin table lamps $100 ea, 36"h. Accessories $12-$52..

Timeless coral accent chairs. $295 ea, 25wx29dx38"h.

It's FINALLY here! Lumina Gem's 5th Annual Estate & Designer Jewelry Sale! TODAY AND TOMORROW, up to 50% off! 10am-6pm. Exotic & timeless estate jewelry from around the world, & discounts on your favorites too, like Marahlago, Vahan, Nina Nguyen, Evocateur, Charles Garnier, and Yurman! Come on over...the favorites go fast!

Gorgeous gold bracelets, endless styles! $525-$5,975.

SALE: $420 to $4,780.

Seriously, look at this eye candy. Exquisite, unique pieces that you can't find anywhere else. Call or stop in for pricing.

Victorian era antique diamond ring with 1.90ctw of Old European cut diamonds in platinum. $7,025. SALE $5,680.

We have so many more antique diamond rings here for the event only...just one of the beauties shines here on a sunflower bed. Call for pricing.

DAZZLING gold everywhere... Pendant and Chain $2,020. SALE PRICE $1,616.Earrings $2,875. SALE PRICE $2,300.

Diamonds really ARE forever....these antique diamond rings are timeless! Call or come by for pricing.

Gorgeous and unique gold and diamond bracelet, hand made and amazing.2.32ctw diamonds 14ky gold $9,685. SALE $7,748.
Check out the patterns! Sapphire and diamond rings $2,450 to $6,550 retail. SALE: $1,960 - $5,240.

Animal jewelry from fetching to fierce...Mighty ram pin, darling turtle ring, enchanting butterfly, peaceful koi. Call or come by for pricing.

Gold rings for days....for EVERY STYLE. Call or come by for pricing.

More glamorous glittery golds.... gorgeous Tiffany & Co. bracelet, rings, rings, and more rings!

Oh, I am such a fan of this coral and gold ring $850, SALE $680. Matching earrings $500, SALE $400.

Native American handmade sterling silver belt buckle, $1,020, SALE $816.

Admire the artistry in these hand made turquoise and sterling silver pieces.Dancing man pin/pendant $900, SALE $720. Butterfly pin/pendant $125, SALE $100. Clip on earrings $125, SALE $100.

Coin and seed pearl pendant $2,780, SALE $2,224. Coral and turquoise ring in gold, $875, SALE $700

Just some of the many equestrian pieces here for 3 days only...horse head gold pin $1,625. SALE $1,300.

Winner's circles...more equine beauties....

Oooooohh, let's look at some necklaces! Sapphire & diamond necklace $7,800, SALE $6,240. Opal & gold necklace $630, SALE $504. Gold nugget pendant & chain $1,750, SALE $1,400.

February birthdays and violet lovers rejoice... amethyst rings $1,225 to $1,725. SALE $980 to $1,380.

Fine details and filigree....Antique brooches RETAIL $580 to $17,000. SALE $464 to $13,600.

Cross pins, pendants, and necklaces... Garnet and gold cross $550. SALE $440.Pearl and onyx pin $950. SALE $760. Gold cross with pearl accent $1,025. SALE $820.

Gold and diamond leaf earrings $2,540. SALE $2,032.

Extraordinary earrings.... Green chalcedony earrings $500. SALE $400. Sapphire & gold earrings $525. SALE $420.

And don't forget...many of your favorite brands are on sale, too!
| | | | | | |
| --- | --- | --- | --- | --- | --- |
| | Designer Consignments on Sale! | | | | |
Remember...only 2 days remain for this fantastic event!

Thanks for reading our email...but if once a week is not enough...

Click the links below to follow our Facebook & Instagram pages to see new arrivals DAILY! Just remember to LIKE, SHARE, COMMENT or REVIEW US when you visit our pages. Interacting with our page is fun, plus it prompts social media algorithms to show you our posts!