Get the FAIREST DEAL of them ALL....
Get the FAIREST DEAL of them ALL....
Posted on Monday, October 26th, 2015 at 10:46 am by Administrator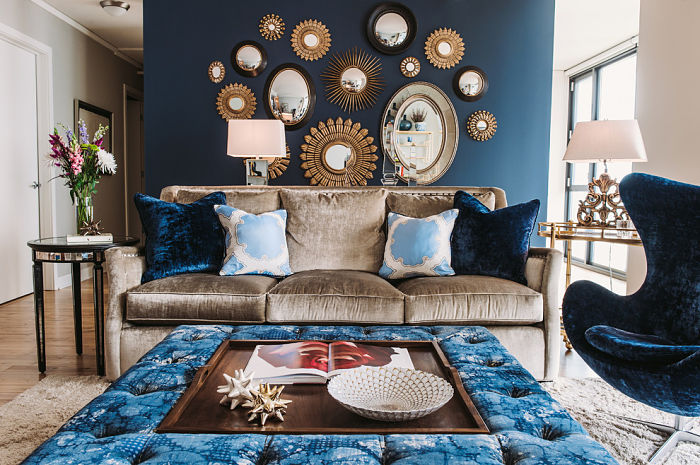 Mirror, Mirror on the Wall…
Come to Home Again and Lumina Gem to get
THE FAIREST DEAL OF THEM ALL!

We have some AMAZING NEW MIRRORS this week,
a WHOLE HOUSE of essentially brand new furniture from a
professionally decorated home in Leland, plus a whole MODEL HOME.
And to top it off, we are having our FALL SALE
at Lumina Gem with savings up to 50% off!
~~ON WITH THE SHOW~~
The room maker…look at this exquisite mirror from Uttermost, $365. 29×39.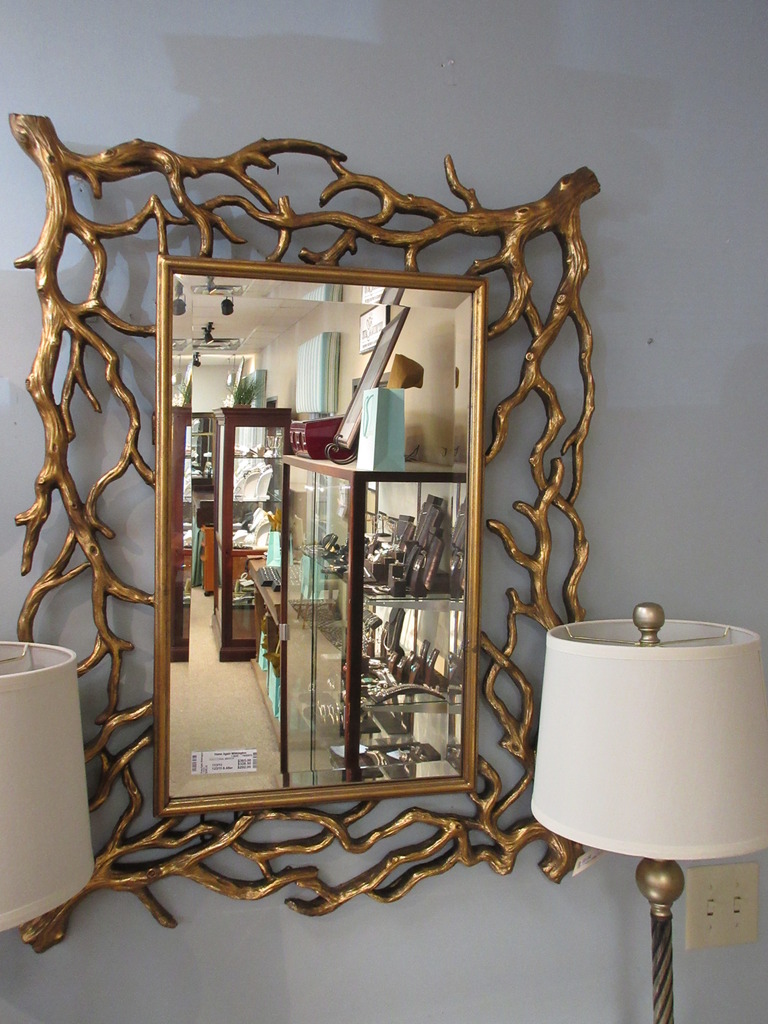 The picture does not show the scale of this crazy beautiful white
coral look mirror, it is LARGE AND IN CHARGE! $495. 50″ diameter.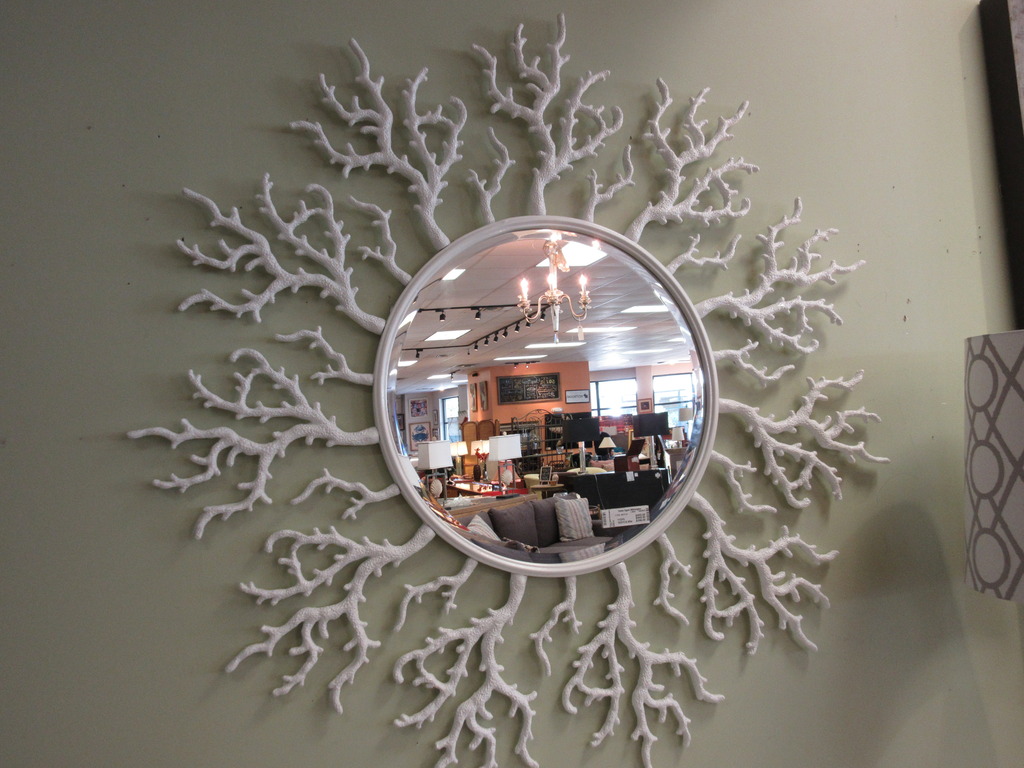 Chinoiserie anyone? This mirror in black and gold is completely
ON TREND and we have it for $325. 27.75×41.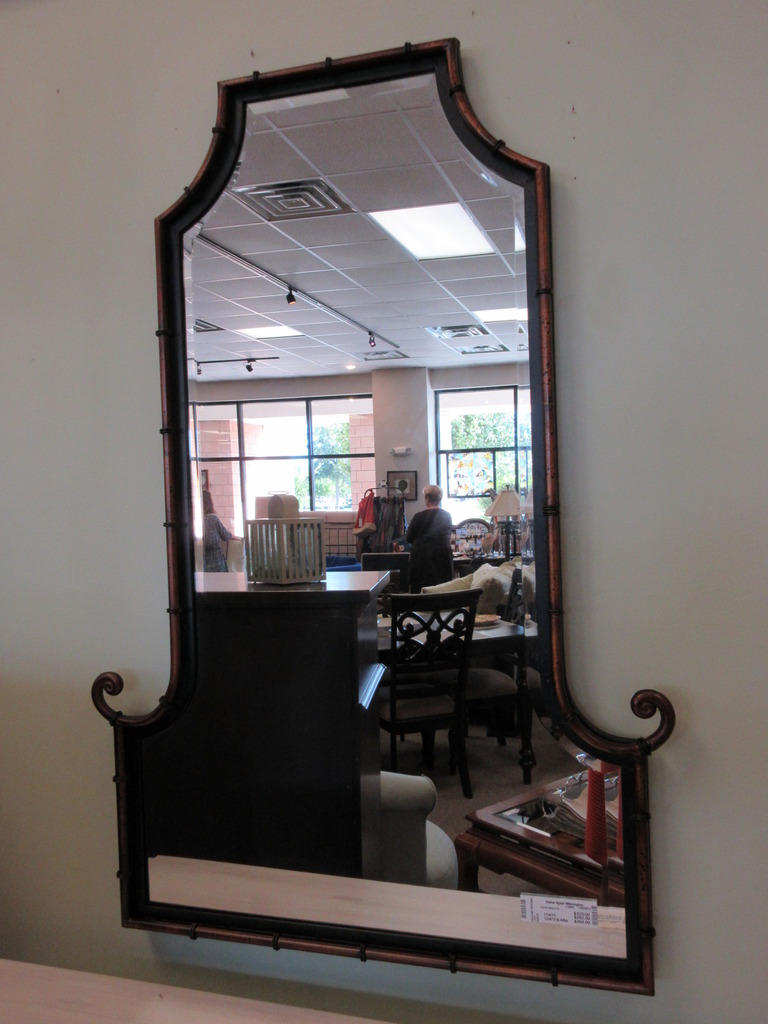 And a more natural look…from Pottery Barn, pick up this lovely
mirror for just $75. 32×45.
PURE DRAMA! Huge abstract on wood, $395, flamingo lamps, $125 each,
narrow hand-painted console, $895.
Abstract art 70×48. Lamps 33″ H. Console 69x14x36.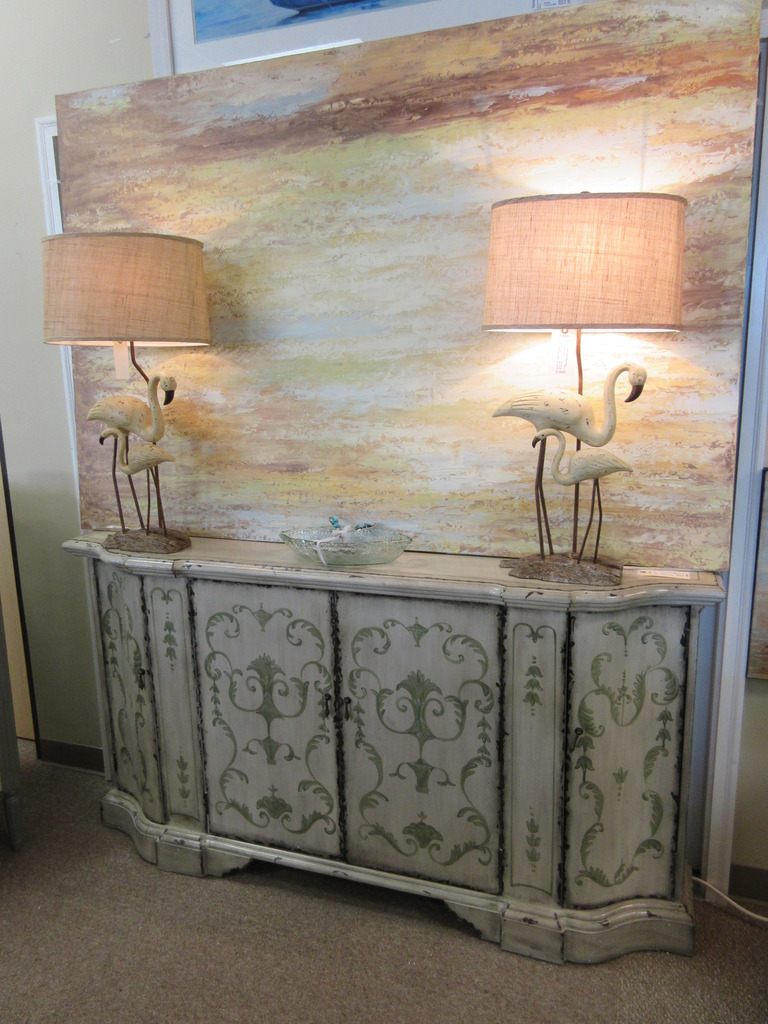 AWESOME coral updated wing chairs from Best,
two available, $445 each. 29″W.
The wing chairs are sitting inside this QUALITY king bedroom set from STANLEY.
Wicker and wood king bed, $895.
Rich looking dresser, also from Stanley, $825. 67″Wx19.5″Dx41.5″H.
Coordinating chest, $475. 36.5″Wx18.5″Dx33″H.
Beside table, $295. 28″Wx18.25″Dx31.5″H.
Punch up the volume with these vibrant coral red swivel chairs
by Woodmark in great condition for $375. each. 33″ W.
We are calling it the lily pad…coffee table and four stools
by Braxton Culler, $495. 41″ di.
Another lovely island inspired piece…this one a desk by LANE VENTURE.
Desk, $475, accent chair, $195.
Desk 51×23.25. Chair 19.5″ W.
This massive king sleigh style bed is a DEAL at $495!
Burl dresser $575. Brown club chair, $325. 33″ W.
The bedside table is equally stunning for $245. 35×20.
This luxe cobalt blue sectional is by B & B Italia and retails for $4,999.
Our price just $1295! 100″ W.
From Broyhill, this black dresser with a neat geometric mirror from a
model home is a wonderful value at $625. 64x20x82.
We also have the matching bedside table,
also by Broyhill, for $265. 31x18x30.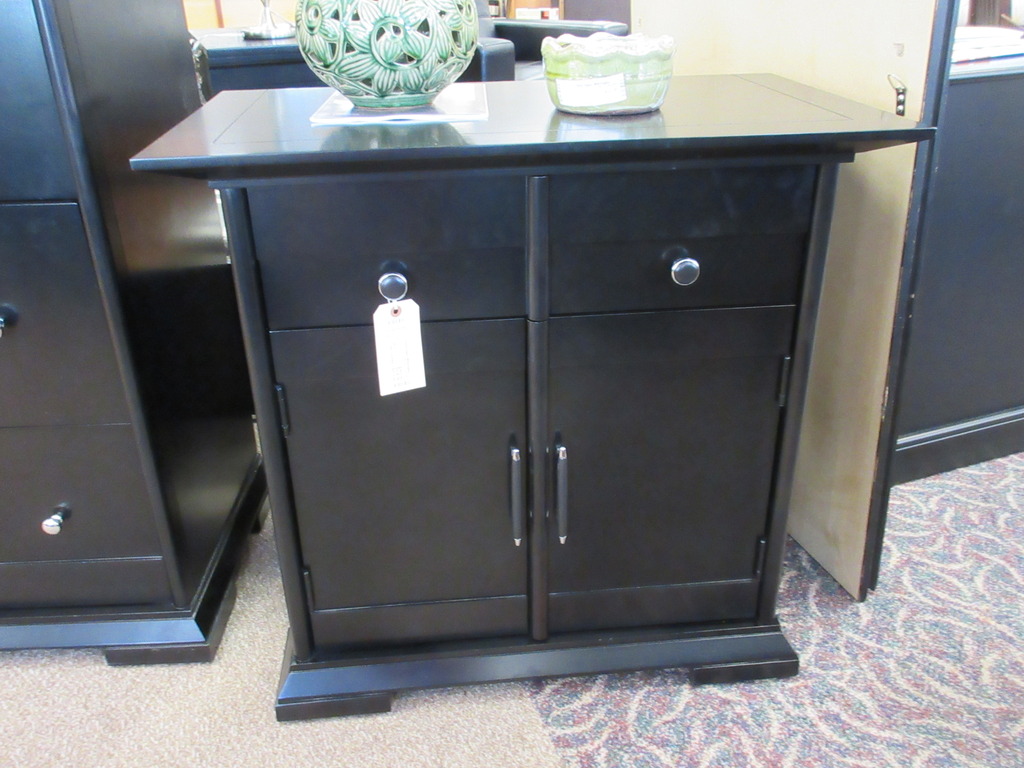 More nice chairs, in tufted ivory linen, score them for only $425 each. 28″W.
Got a BIG TV? Then you will need a BIG media console, and we have a big
and bold beauty. $475. 83″Wx25″Dx26.5″H.
From Hooker, get organized and save HUNDREDS
on this lateral file, $265. 24x24x30.
FRESH…we love the colors on this chair by
Braxton Culler, $375. 30″ W. From a model home and in like-new condition.
More island inspired decor…pair of real bamboo lamps.
Retail, $150 each, our price, $95 each. 33″ H.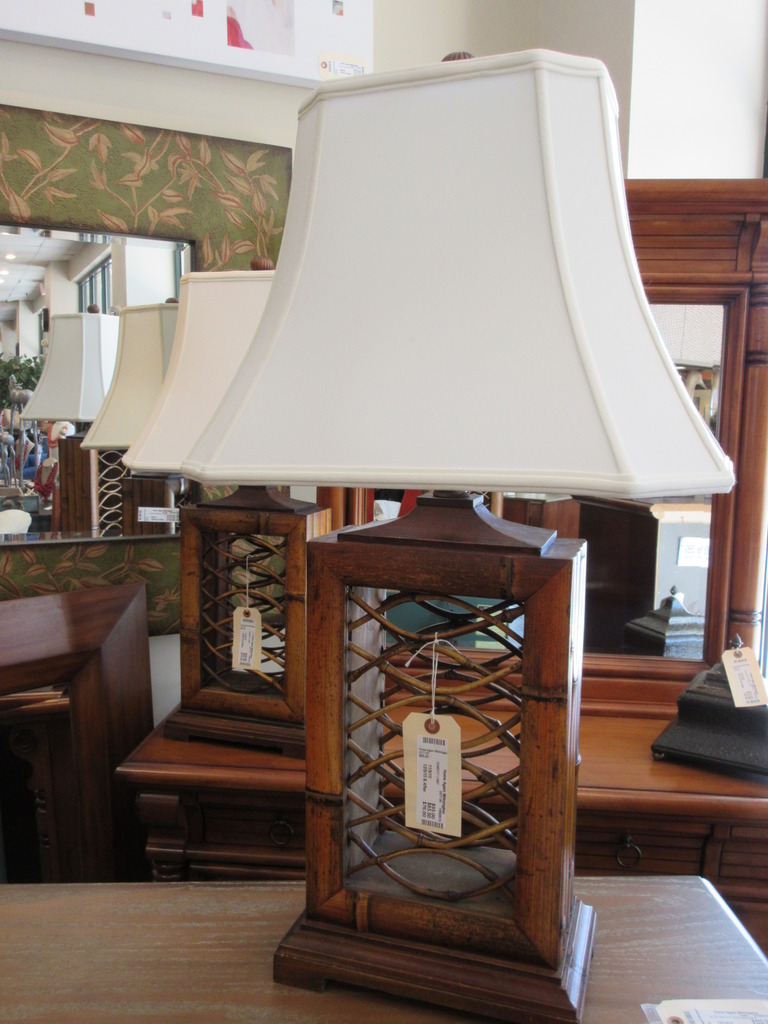 Nice fall colors to warm up your space…
abstract canvases just $32 each. 23.5×36.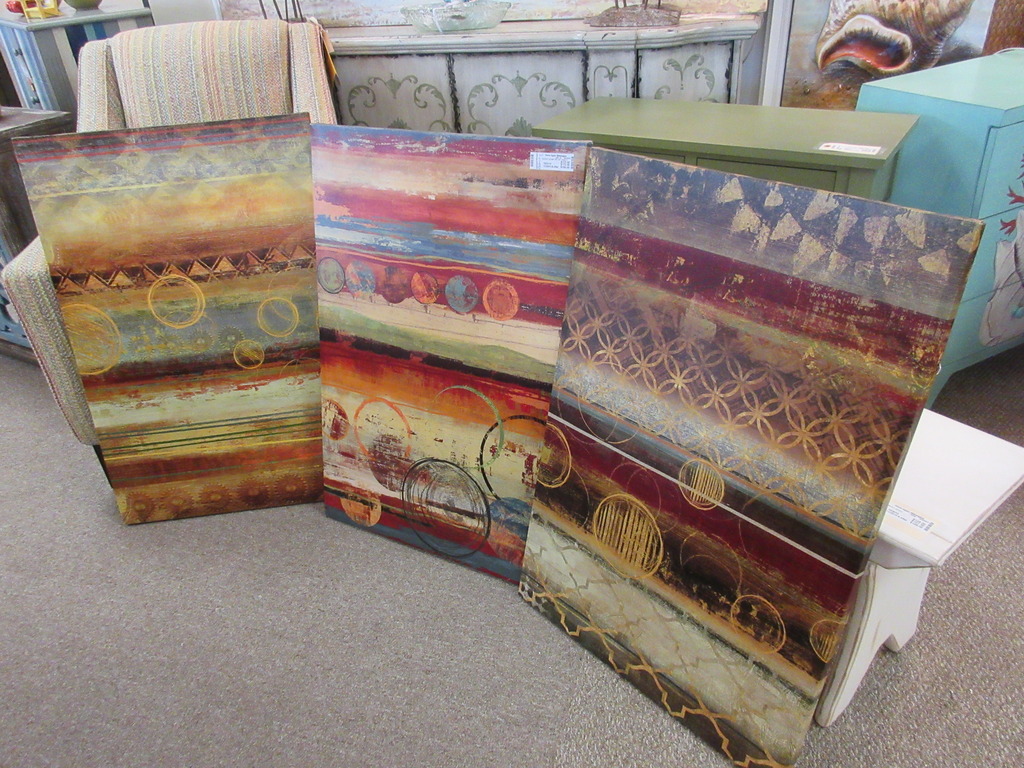 These swiveling cuties in a pale yellow bonded leather are small scale
and comfy, brand new from Best, $465 each. 28″W.
A handsome chandelier with pumpkin colored glass shades,
$375. 35″ di.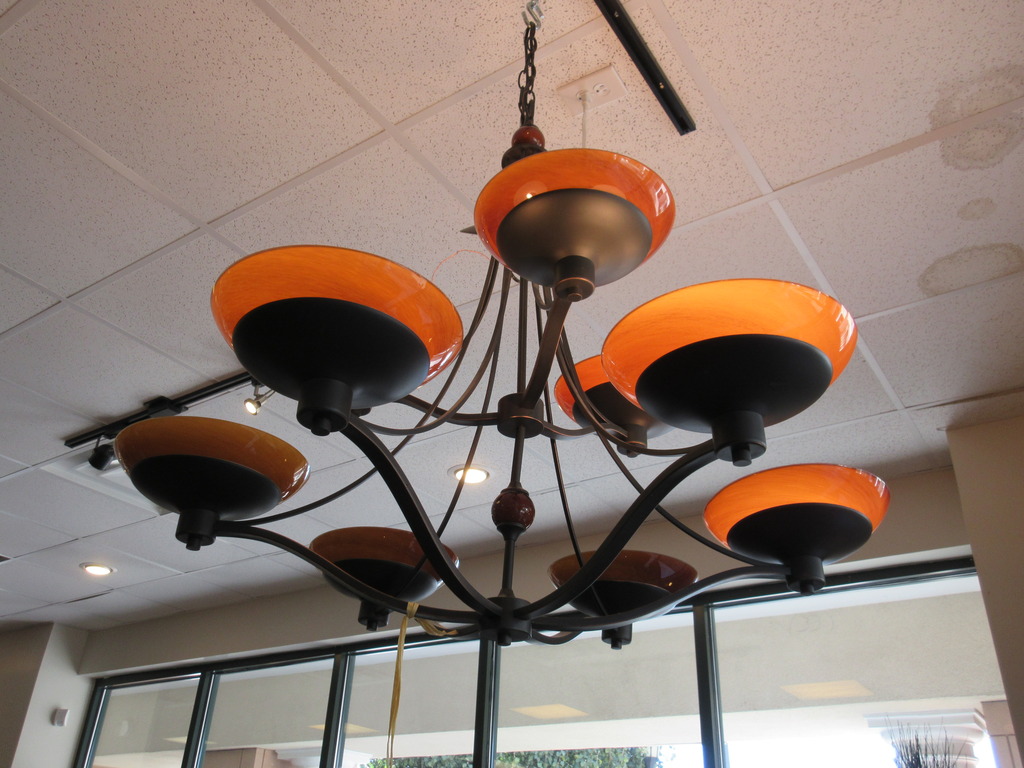 You're going to need somewhere to sit down and pull on your boots…
how about this cute white distressed bench for $135? 47×13.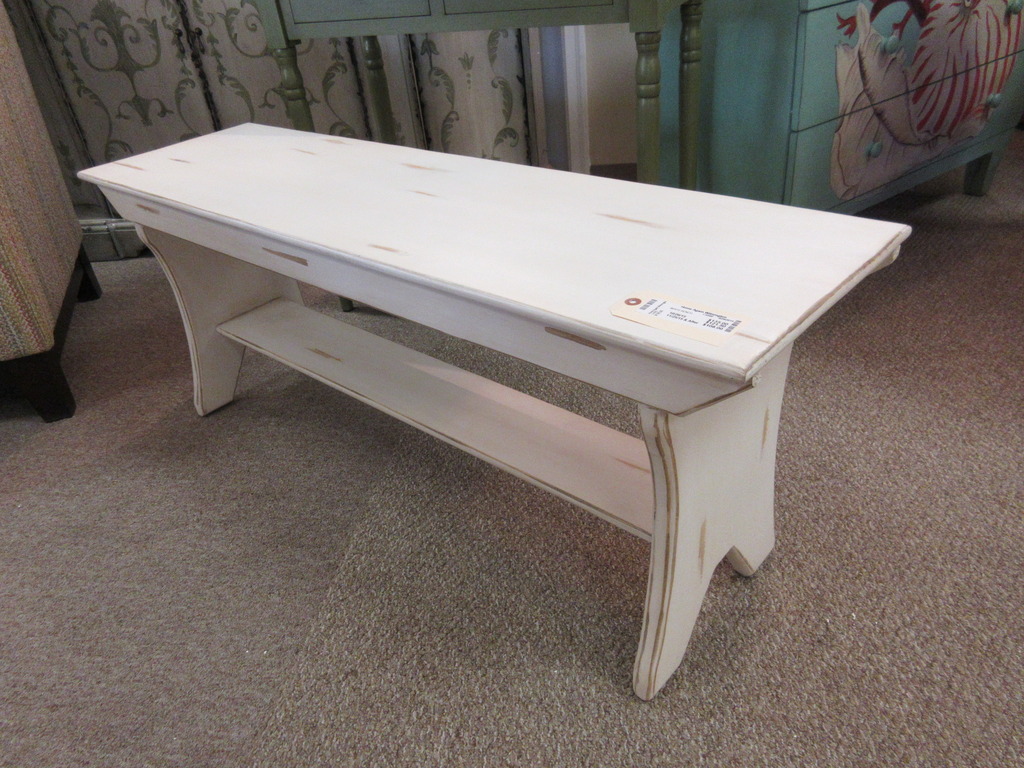 These leaf prints have interesting handpainted
wooden green mats, $72 each. 18.75×23.5.
Is it a bar or a server…you decide! A brand new market sample for $595. 54.25x18x36. Similar styles go for $1,200 at Pottery Barn.
You will NEVER run short of dinnerware again…we have this Sauvignon service for 20 with platters in the West Indies pattern ready for your holiday dinner.
The plates alone sell on ebay for $9 each, our price $295 for the whole set.
Isn't she lovely? We have a PAIR of these brand new swivel
accent chairs from Best, $575 each. 31″ W.
Look at the neutral greek-key design…
they can be at home in any room of the house.
Move over bacon…not there's something meatier!
Beef art on wood, $42. 29×18.
We all agree that these guys are absolutely adorable.
Doggie canvases, $62 each. 18″x15″.
The consignor had this stunning piece imported from Italy, notice the black granite top. $495. 49.5x19x38. We also have a very similar chest in all black and a coordinating queen headboard tipped in silver.
Precious alert! Bulldog lamp, hand-crafted by a local artisan, $145, 21″ H.
We also have it in white…just too cute. $145.
We like the shape of this coffee table with a glass inset top, $275. 35x35x18.
From a model home and in great condition.
Matching end table available, $165. 23x27x25.
SHOW IT OFF in one of these nice display shelves,
just $245 each. 68×32.
Going, Going GONE…it's your last chance to grab a greek column,
a true architectural design element,
ON SALE NOW for $100 each. Two available. 80″H.
This rich set of doors will get the attention on your wall for $275. 26×37.

Had your eye on a certain piece of jewelry in our cases?
Well, guess what… it is on SALE!
~EVERYTHING is 15% to 50% off~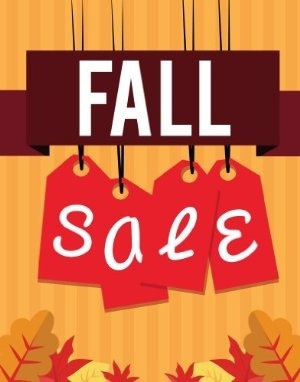 ~Every Girl Loves John Hardy~
John Hardy "Kali" cuff sterling silver and black sapphire cuff,
WAS $1,395, NOW $1,115.
Classic John Hardy, sterling silver and 22ky gold hammered ring,
WAS $550, NOW $445.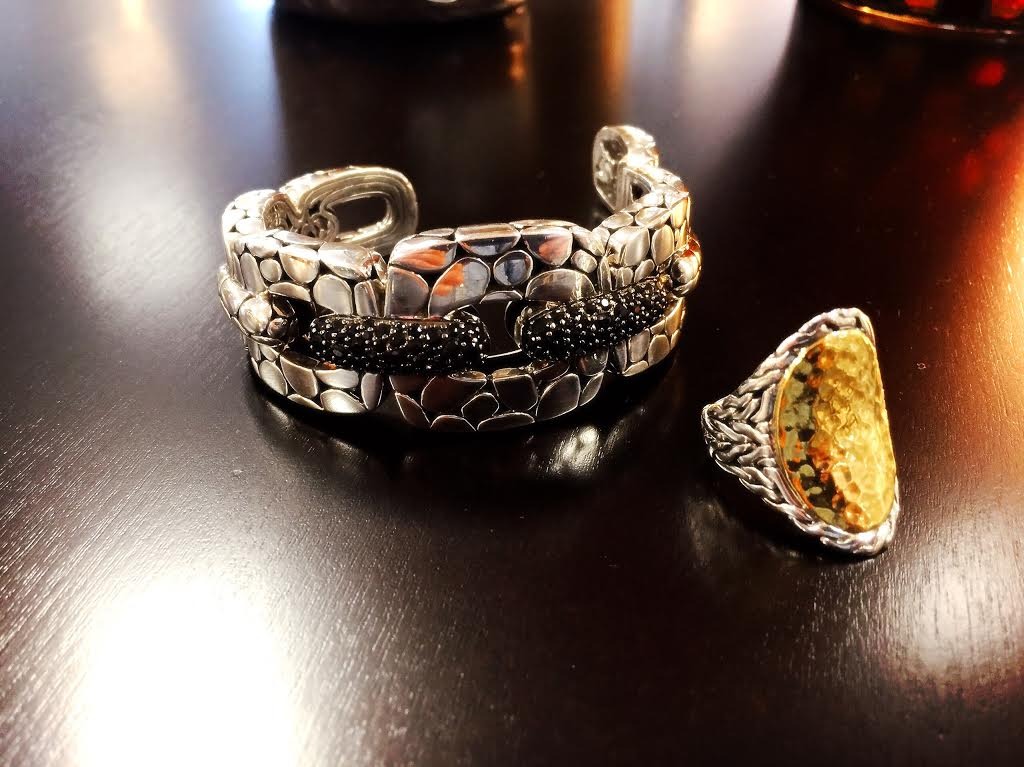 Cartier Trinity band in 18k tri gold, size 11.5, WAS $595, NOW $475.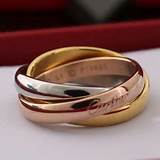 DAVID YURMAN 10.5mm pearl cable ring, WAS $295, NOW $235.
This will not last…phone orders accepted with a credit card.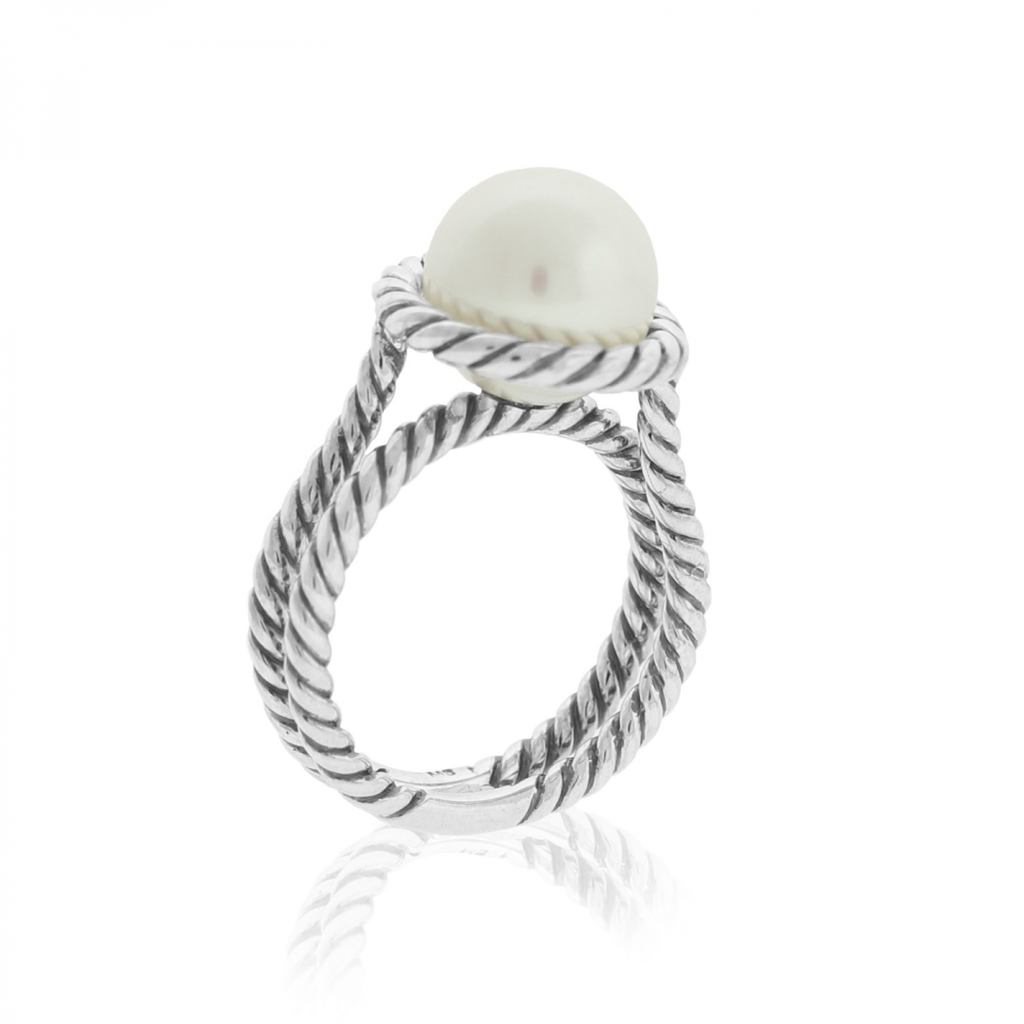 ~~DAVID YURMAN IS ON SALE~~
Vintage David Yurman 14ky gold and sterling silver amethyst tassle
Albion necklace, WAS $1,495, NOW $1,195.
David Yurman .51ctw diamond 11mm Albion ring, WAS $1,195, NOW $955.
David Yurman cable large link bracelet, 7.5inches, WAS $475, NOW $380.
David Yurman pink sapphire, 18ky and sterling silver 16 inch necklace,
WAS, $495, NOW $395.
David Yurman lemon quartz, 14ky and sterling silver ring, WAS $595, NOW $475.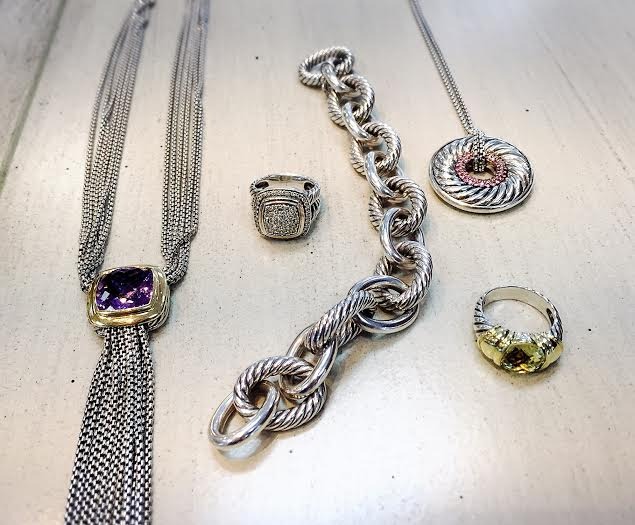 DON'T LET THIS SET GET AWAY…This Natasha designer collection,
from Russia, is on consignment and heavily reduced!
18kw gold diamond hoop earrings, WAS $1,995, NOW $1,095.
18kw gold heart necklace set with a kunzite and diamonds,
WAS $3,995, NOW $2,395.
18kw gold heart links set with diamonds, 7.5 inches, WAS $2,995, NOW $1,795.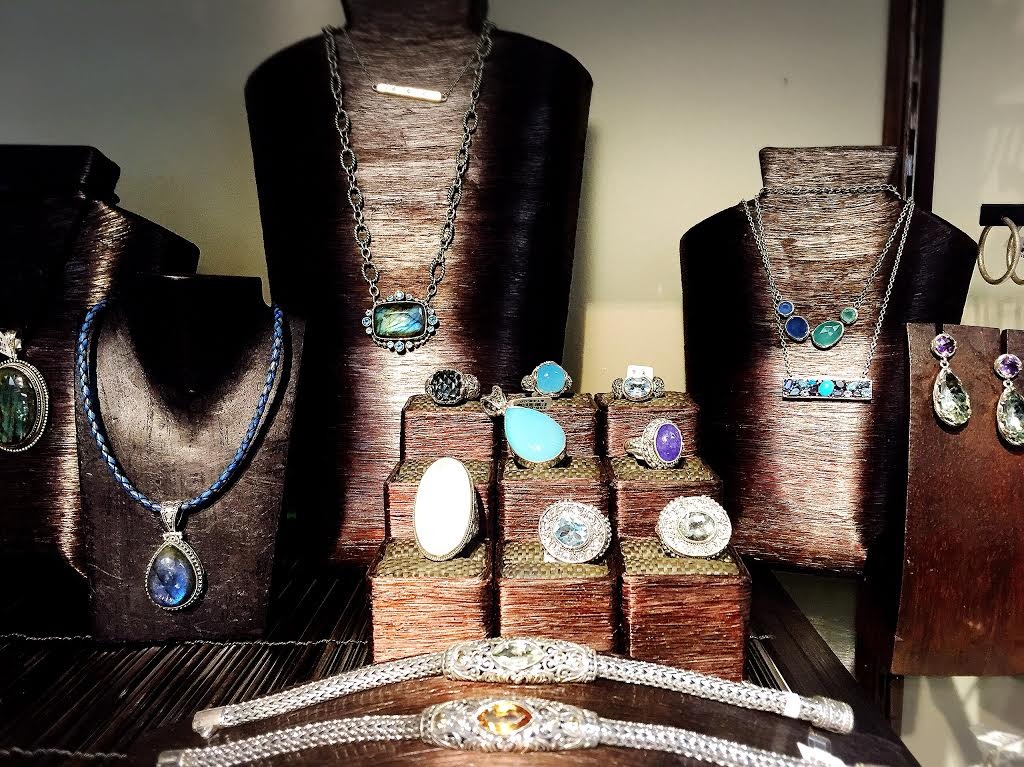 These Charles Krypell dangle earrings were $19,500.
Buy them here during the sale for only $9,500.
Here are the details on the prettiest earrings ever…platinum with 18k rose gold accents. 1.50ctw VS1 clarity E color emerald cut diamonds. Accent diamonds .25ctw natural, pink diamonds and .79ctw round brilliant diamonds.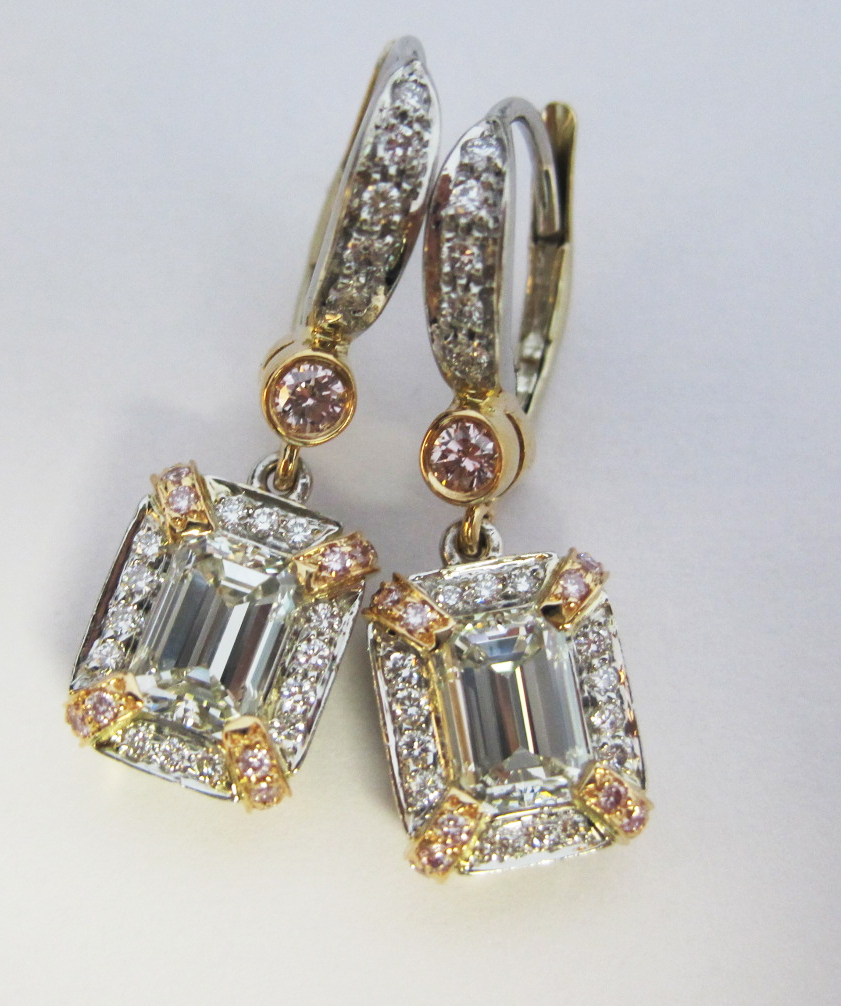 All of our studs are on sale too……
These scalloped 14kw gold screwback earrings are set with Si clarity I color
1.63ctw diamonds, WERE $7,995, NOW $5,995.
Our Fall Sale includes these Lumina Gem handmade 6mm opal studs set in 14k rose, yellow or white gold, ON SPECIAL THROUGH THE MONTH OF OCTOBER,
only $220.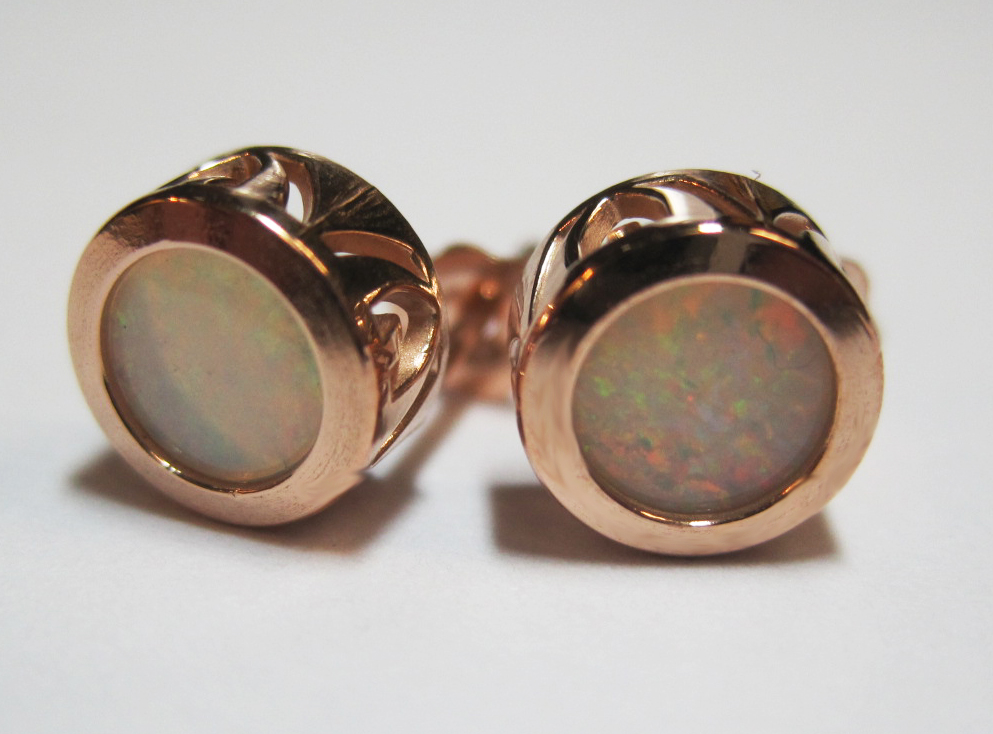 We have plenty of options in opal and tourmaline for that
beautiful October baby.
Raymond Mazza designer freeform opal accented by .27 ctw diamond 14ky gold necklace, WAS $2,175, NOW $1,635.
Raymond Mazza designer ring with 1ct blue topaz & tourmaline in sterling silver and 18ky gold, WAS $1,495, NOW $1,125.
Brad Bass handmade slice of vibrant watermelon tourmaline in a 14ky gold enahncer, WAS $595, NOW $475.
14ky gold 3.2mm solid oval link 16 inch chain, WAS $795, NOW $635.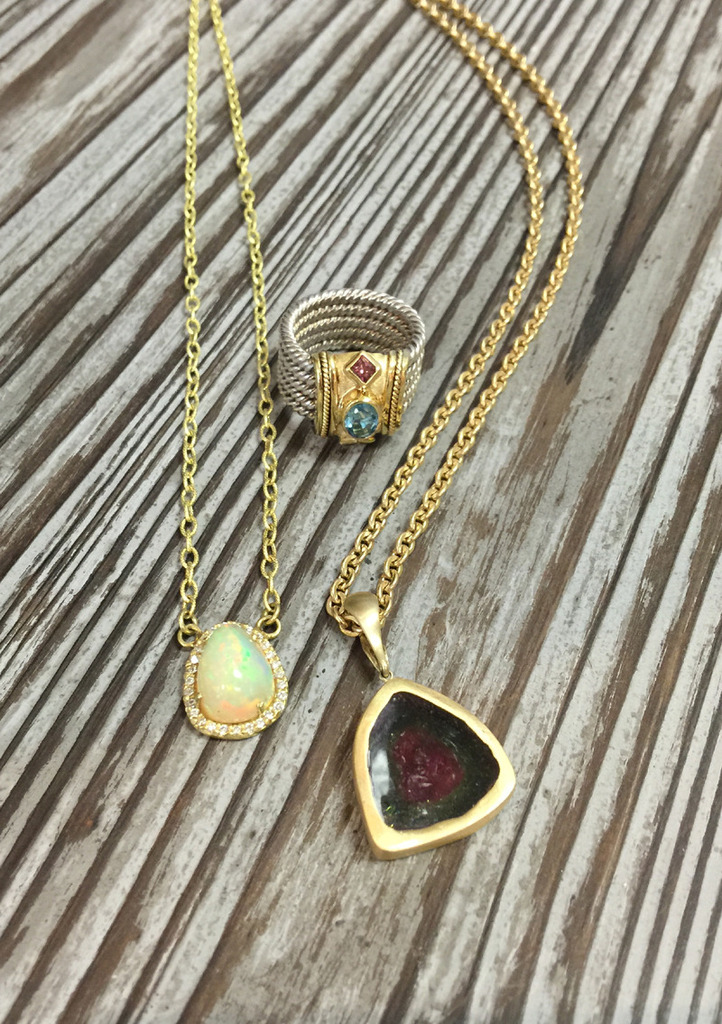 Look at this watermelon tourmaline slice up close, it's great for fall.

Calling all Nina Nguyen jewelry fans, this beloved line is 15% OFF.
Turquoise adjustable 16 inch to 18 inch necklace, WAS $195, NOW $165.
Rainbow moonstone & turquoise bangle, WAS $695, NOW $595.
Turquoise bangle, WAS $395, NOW $355.
Rainbow moonstone & turquoise drop earring, WAS $395, NOW $355.
Turquoise stud earring, WAS $295, NOW $250.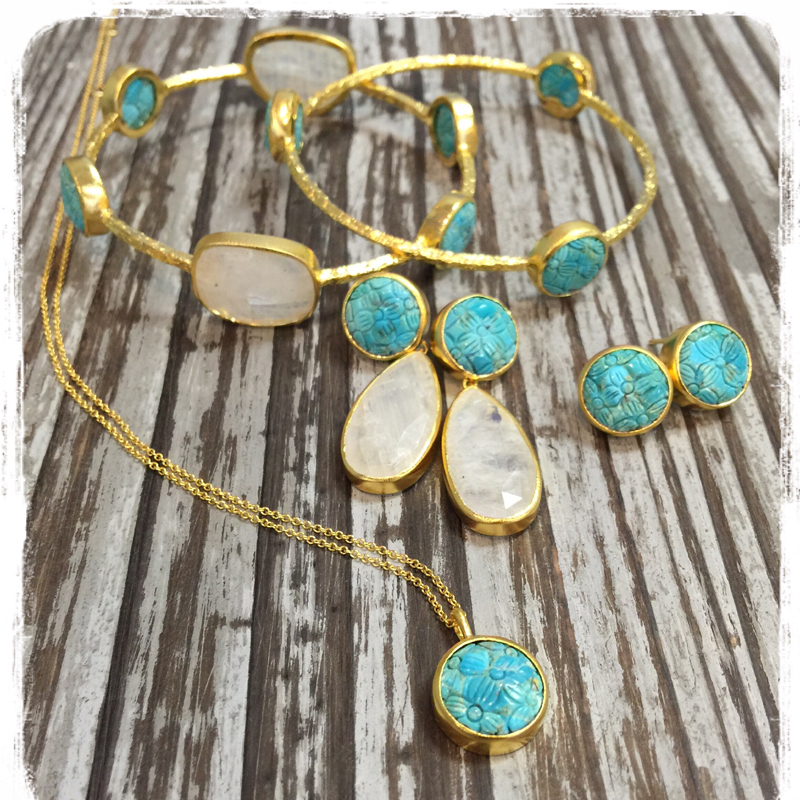 Nina's pearl and crystal 38 inch necklace, WAS $365, NOW $310.
Yantra, trio druzy and turquoise dangle earring, WAS $695, NOW $590.
Turquoise leverback earring, WAS $295, NOW $250.
Druzy and chrysoprase drop earring, WAS $295, NOW $250.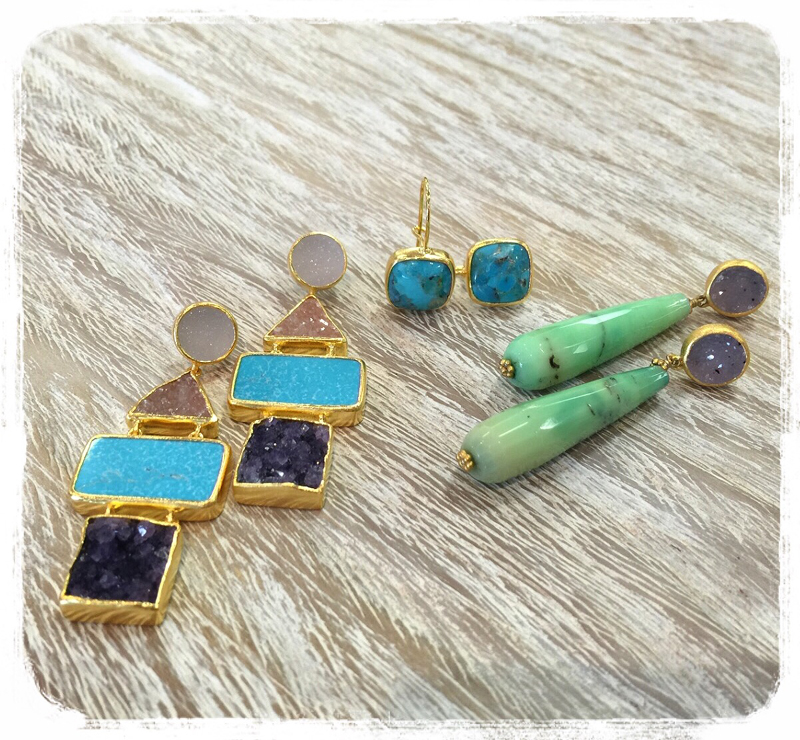 THIS ALREADY AFFORDABLE LINE IS ON SALE for 15% OFF.
Beaded hook cuffs in 18ky gold vermeil or sterling silver, NOW $95 each.
Braided and high ploish link 7.5inch bracelet is sterling silver, NOW $245.
Braided oval earrings in 18ky gold vermeil or sterling silver, NOW $75 each.
From Left to Right at 15% off:
5.5mm, braided onyx cuff sterling silver, NOW $275.
22.5mm, braided onyx cuff sterling silver, NOW $650.
3mm, braided onyx cuff sterling silver, NOW $225.
12.5mm, braided onyx cuff sterling silver, NOW $425.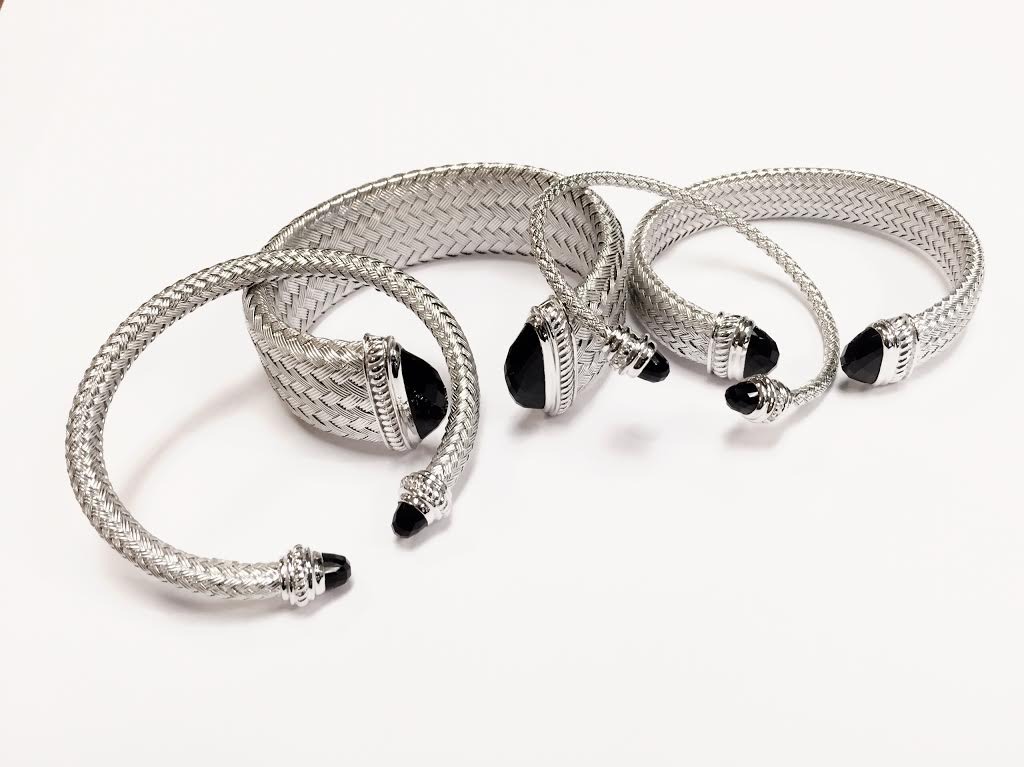 Charles Garnier gemstone cuffs, 15% off, from left to right:
2.8mm, amethyst sterling silver cuff, NOW $225.
5mm, blue topaz sterling silver cuff, NOW $335.
2.8mm, pearl sterling silver cuff, NOW $225.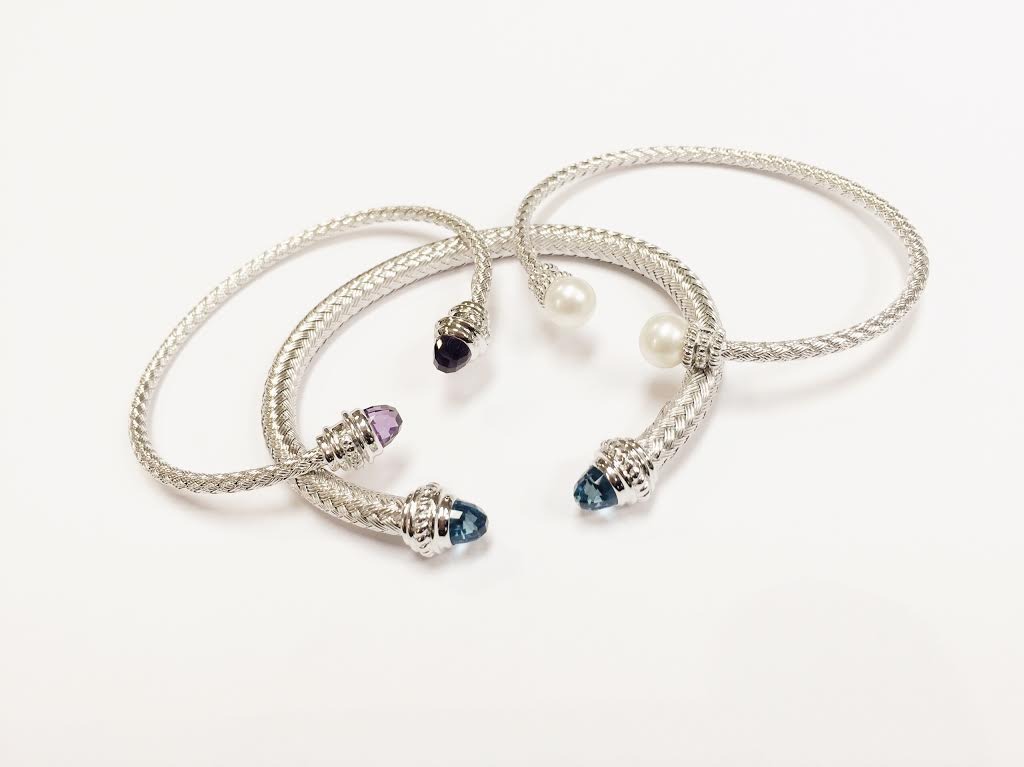 All TONY MACCABI is 30% off!

This Tony Maccabi, 2.7ct aquamarine is bezel set into rose gold accented by .40ctw diamonds with a 14kw gold ring, WAS $2,425, NOW $1,695.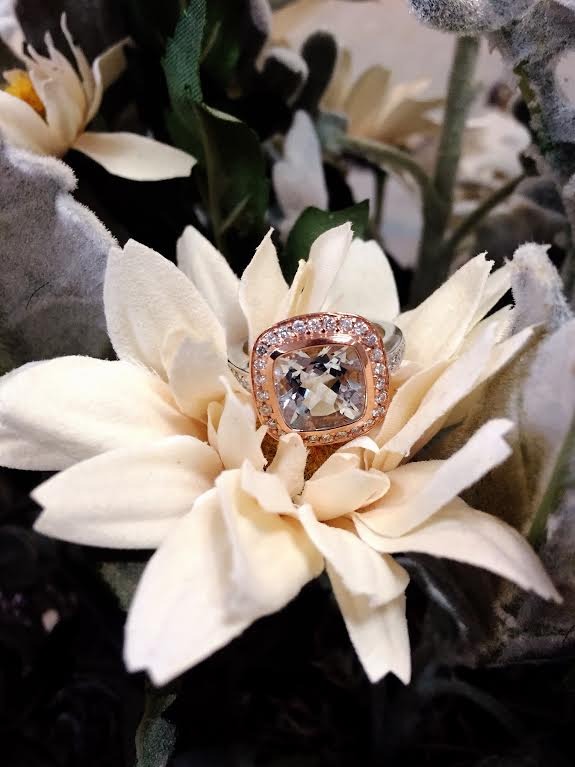 These doublets by Tony Maccabi are full of life…and 30% OFF!
Pink coral with .20ctw diamonds in 14k two tone setting, NOW $1,050.
Rainbow moonstone with .27ctw dimaonds in 14k two tone setting, NOW $1,365.
Blue topaz with .27ctw diamonds in 14kw gold setting, NOW $1,215.
Hematite with .30ctw diamonds in 14kw gold setting, NOW $1,995.
Red coral with .27ctw diamonds in 14k two tone setting, NOW $1,175.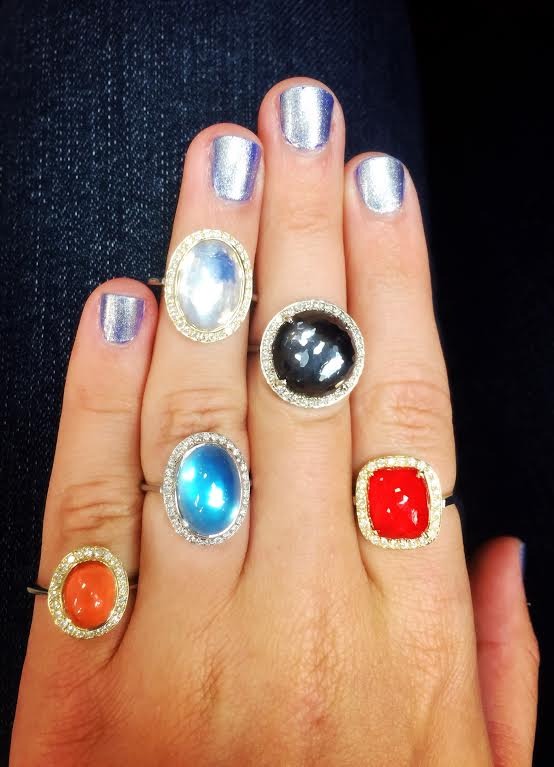 Everyone loves Ray…
All Raymond Mazza is all 25% OFF!
Wide cigar band in sterling silver with rope accents, (can be monogrammed)
Side set sleeping beauty turquoise in 14ky vermeil, NOW $595.
Lemon citrine in sterling silver leverback earrings, NOW $95.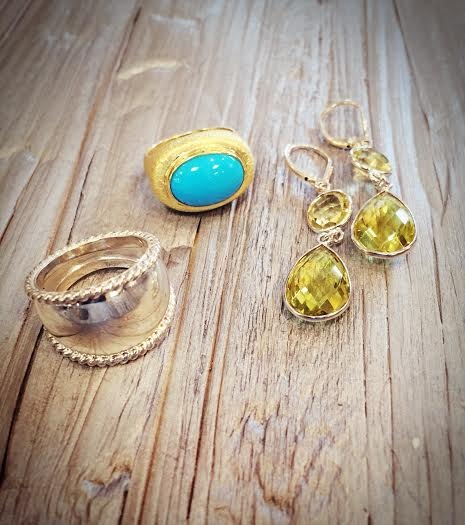 The quatrefoil in chalcedony is one of Raymond's signature collections!
(l-r)Chalcedony with .24ctw diamonds in a 14ky gold ring, NOW $1,345.
Chalcedony with diamond accents in14ky gold vermeil,18 inch necklace, $795.
Chalcedony 14ky gold 7.5inch bracelet, NOW $1,095.
Chalcedony set into 14ky gold on a wide cigar sterling silver band, NOW $375.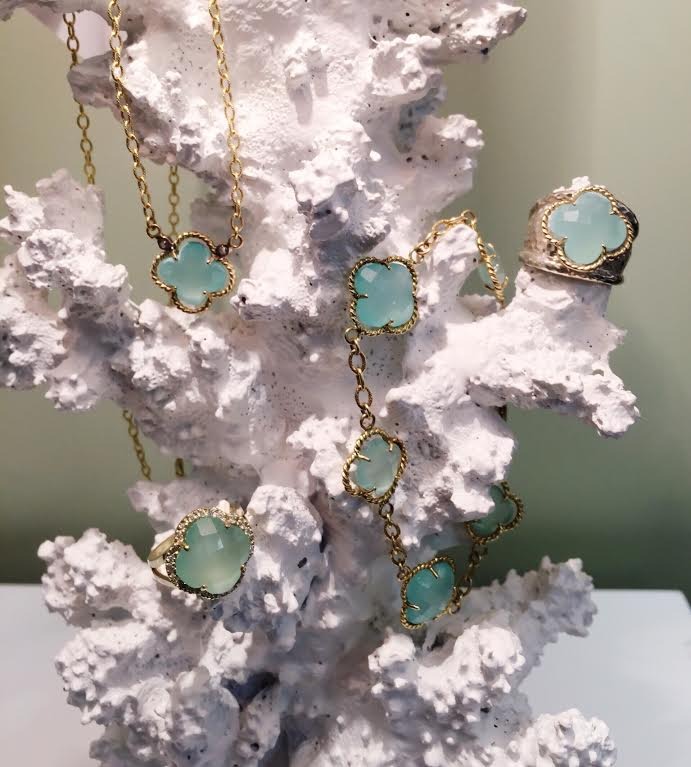 All of our new bridal pieces are 25% OFF
We have yellow, rose and white gold and platinum bands
and semi-mounts ranging from $400 to $4,000.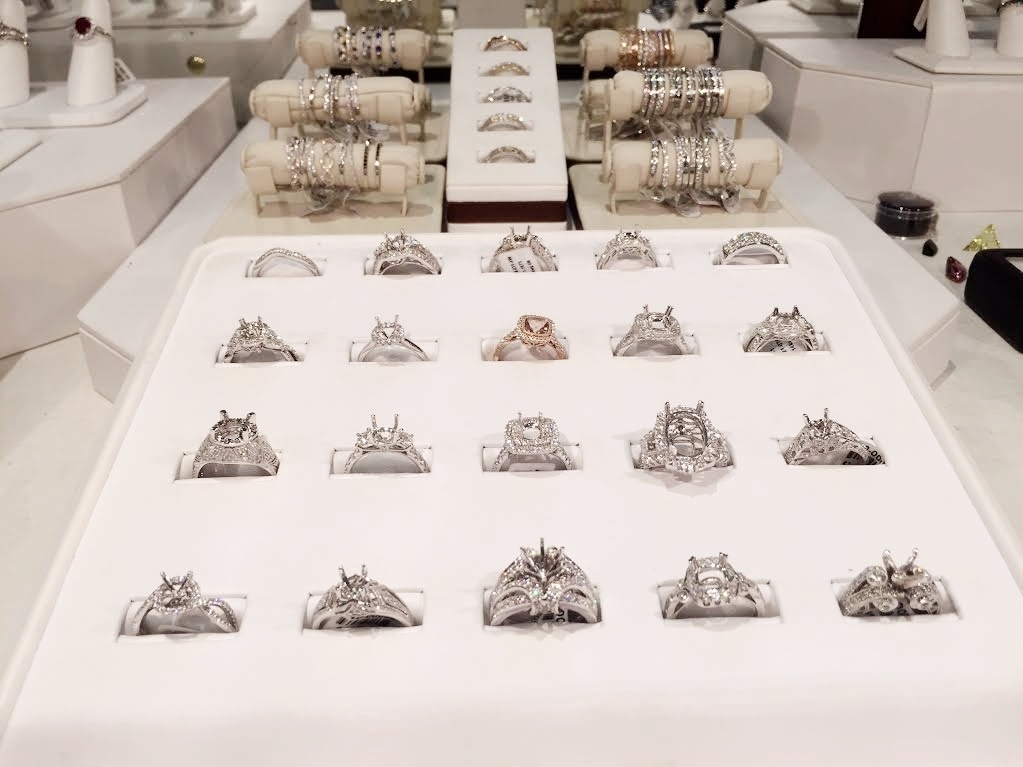 The Samuel B. sterling silver and colored gemstone
line is now 15% OFF
Prices range from $80 to $450.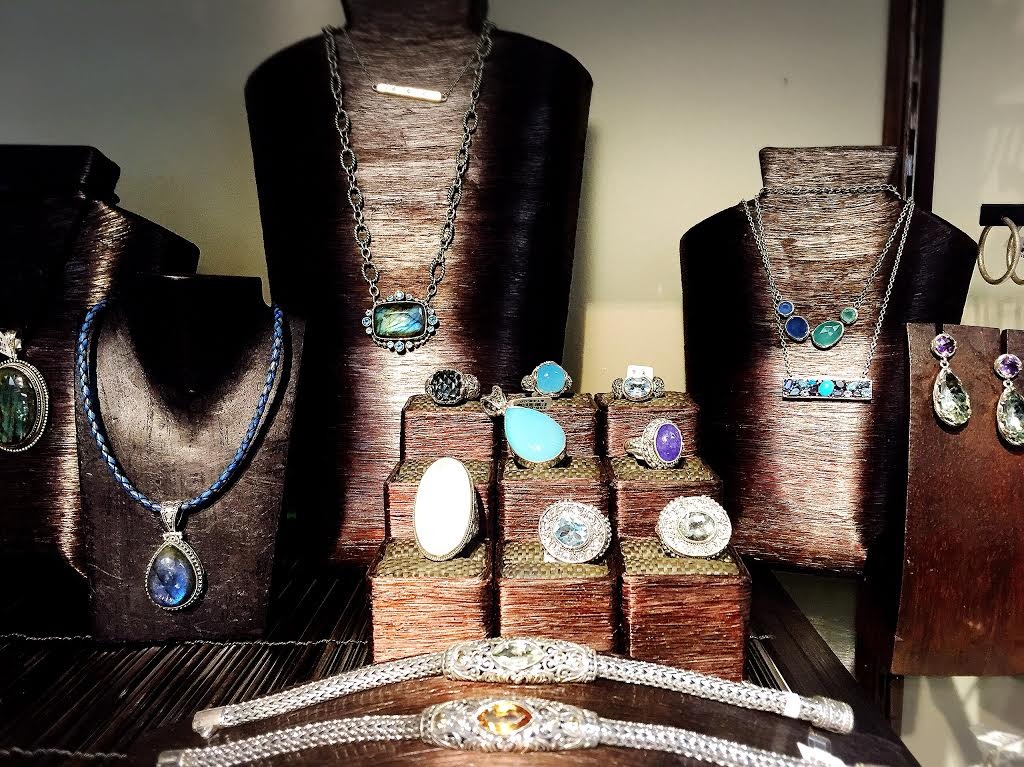 Did you know?
Lumina Gem offers financing
with deferred interest for 6 months
from the trusted company Synchrony Financial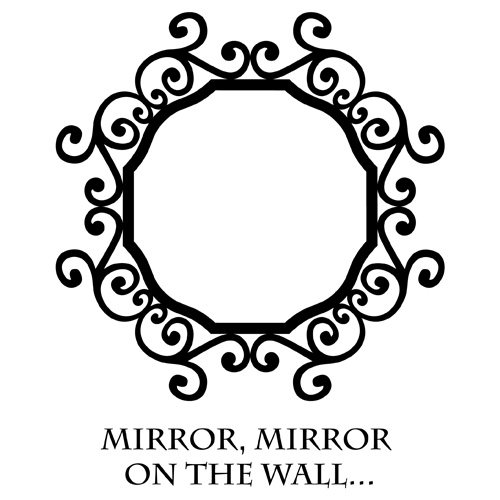 Come get the BEST BARGAIN of them all…
from Home Again & Lumina Gem.
Are you our friend on facebook?
You might not know it, but facebook will not automatically show you
our posts, even if you're our friend. To make sure you get all
the latest info, see the tips below.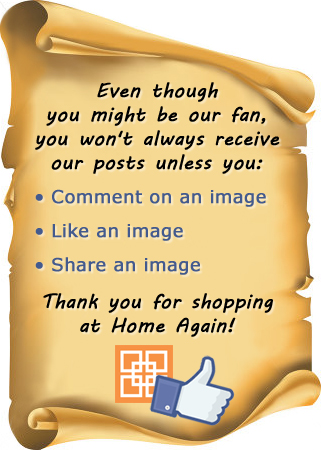 Interested in consigning with Home Again?
Here's how!
We accept items on consignment for a period of 90 days and our consignors receive 50% of the selling price.
As a general rule, anything we accept must be in 'like-new' condition, less than 5 years old, and current in style; in other words, you could buy a similar item in an upscale furniture or décor store.
For larger items, such as a dining set or sofa, it is always best to email or bring in photos first to make sure we can accept it. Once we have accepted your item(s), if you need assistance bringing it to the store, we can recommend delivery companies for you to contact. Their rates vary based on the number of items and location, and typically start at $65.
If you have a large volume of merchandise, such as a model home or entire estate, one of our associates will be happy to conduct an on-site visit by appointment.
All items we accept are placed on our sales floor immediately, so please make sure your items are thoroughly cleaned prior to bringing them in.
Ready to get started?
We accept consignments Monday – Friday, 10am to 5 pm.
Consignments are accepted on Saturdays by appointment only.
For larger items, the best way to get started is to email us picture(s), and if possible, include where it was purchased and how much it retailed for. We will promptly let you know if we can consign it and help you arrange transportation if necessary.
We request 24 hours notice prior to receiving large items. Smaller items such as decorative accessories and lamps, can be brought in anytime during normal consignment hours.